How To Upload & Download Large Files
Sometimes files are too large to send to us by normal e-mail. That's when you use our file submission process. If you have a large file (s) that you need to send and are not sure it will fit in a normal e-mail, click on the "Proceed" link below. Enter your email address. In the message box, provide your name, phone number and as many details as possible regarding the file (s) you are sending. Next, click on the first browse button to locate the file on your computer that you want to send us. Be sure it is from your hard drive and not the application. You may send us up to five large files at one time, of any size, whether they be from Windows, Linux or Mac. Once you have selected your files, click on "SendThisFile." That's all there is to it. You will receive a notice that your files have been sent to us.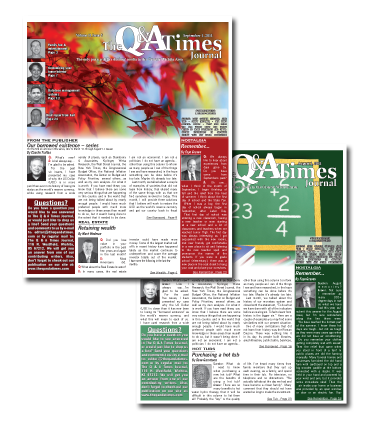 The Q & A Times Journal accepts no responsibility for unsolicited manuscripts or photographs.Materials will not be returned unless accompanied by a stamped, self-addressed envelope. Thank you.